Hiroshi Kumagawa (隈川弘, Kumagawa Hiroshi) is part of the Body Improvement Club and a student of Salt Middle School.
Appearance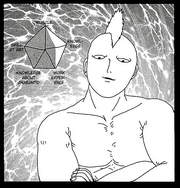 Kumagawa is a tall and muscular teenager with a tall light-coloured Mohican, no visible eyebrows but a distinctive eyebrow ridge. He wears the typical white t-shirt and dark shorts of his club.
Personality
Kumagawa is a determined student and appears to be the second voice among the Body Improvement Club. He is apparently quite industrious outside of school, having a good amount of work experience. Kumagawa is also apparently quite good at art and has a high level of knowledge about anabantid.
Plot
To be added.
Powers & Abilities
Kumagawa is extremely muscular and physically strong for his age, which enables him to effortlessly overpower and defeat many others of his age-group.
[1]
He is no match for an
Esper
however.
Kumagawa has above average grades and seems to be relatively smart, getting decent scores in his tests, his highest being in Science.[2]
References
↑ Mob Psycho 100 Manga — Vol. 2 Chapter 12 (page 8-16).
↑ Mob Psycho 100 Manga — Vol. 7 Chapter 60 (Omake: Unnamed).